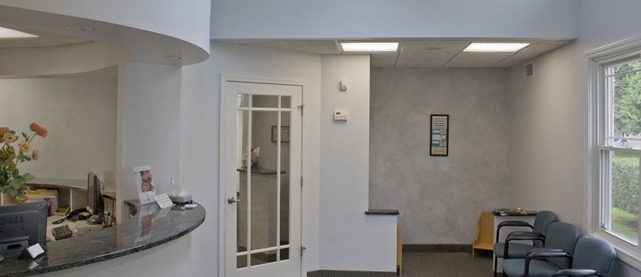 The initial  "SMILE FOR LIFE"  will begin from the first time you contact our friendly well-trained Administrative Staff at our modern office in Westfield. We will guide you through any enrollment or insurance questions you might have; help to make financial arrangements as necessary; and most-importantly, be your coordinator of treatment appointments.
Appointments
We pride ourselves in providing quality dental care; therefore we exclusively reserve an appointment time just for you. If you or your family must cancel, we would appreciate as much notice as possible.
Emergencies and Off-Hours
If we are closed, we have an answering machine to direct you in case of an emergency and to record any off-hour messages. If needed, we will find the earliest available appointment to address your needs.
Financial Arrangements
It will be our pleasure to coordinate both your dental treatment and maximize your dental insurance benefits. Payment is expected at the time services are rendered unless other arrangements are made prior to your appointment. For your convenience, we accept cash, checks, and Visa, MasterCard, and Discover.
Insurance
As a service to our patients, we accept many dental insurance programs, and will strive to maximize your annual benefit options. We can help you explore the benefits available to you both as an individual and as a family. We hope that you remember that your specific policy and the coverage available to you stems from an agreement between you and your insurance company, one that is established by your employer, not us. Please remember that you are responsible for your total financial obligation should the insurance not cover any procedure, and the balance after any benefits have been received, even if the dollar amount is less coverage than anticipated.
Financing
We are pleased to offer our patients third-party financing to assist in covering more extensive needed and or desired treatment.

We offer CareCredit, America's leader in patient payment plans. Care Credit is similar to a credit card, but is exclusive to health care services. You can go online to get instant approval, or let our Office Administrators help you explore the various options available to you, some interest-free!
Office Hours
We are here to answer any questions, schedule appointments, and treat patients during the following business hours:
Monday 8:00am – 5:00pm
Tuesday 8:00am – 5:00pm
Thursday 9:30am – 7:00pm
Saturdays by appointment only